Jaden Hill is an incredibly special athlete that could be one of the best prospects in the entire Colorado Rockies farm system.
Coming out of Ashdown High School in Arkansas, Hill played football until breaking his right collar bone, bringing an end to his career as a quarterback.
Turning his sights toward baseball, he was considered one of the top 100 players going into the 2018 MLB Draft. The St. Louis Cardinals selected him in the 38th round as a formality since Hill had every intention on playing with the LSU Tigers.
At 6'4" and 234 lb, his powerful physique was on full display during his junior year at Louisiana State University in 2021 before tearing his ulnar collateral ligament. This injury required Tommy John surgery and ruled out a professional debut for at least a year. 
Even with this major setback, many prognosticators felt Hill was still worthy of a first-round selection last July. Somehow, the Rockies were lucky enough to secure this intriguing arm in the second round. 
His changeup, which pairs incredibly well with a fastball that's been clocked as high as 98 mph, could be the best weapon in his arsenal of pitches once he returns to live action at some point in 2022.
Since Hill had only 51.1 innings under his belt during three years in Baton Rouge, his future as a starting pitcher for Colorado may be in question.
No matter the role, one thing is certain: Jaden Hill will get himself to the big leagues. 
Patrick Lyons: What's the college atmosphere down there at LSU? From everything I've seen, it's pretty wild.
Jaden Hill: It's next to none. No other college can compare to LSU. And I can go into argument with anyone that went to any other university about the fans. They're wonderful. They embrace you, they love you. No matter where you're from, what state you're from, they embrace you and make you feel like you're at home.
Lyons: What was your route like to actually getting there? How'd you decide you wanted to sign a letter of intent with them?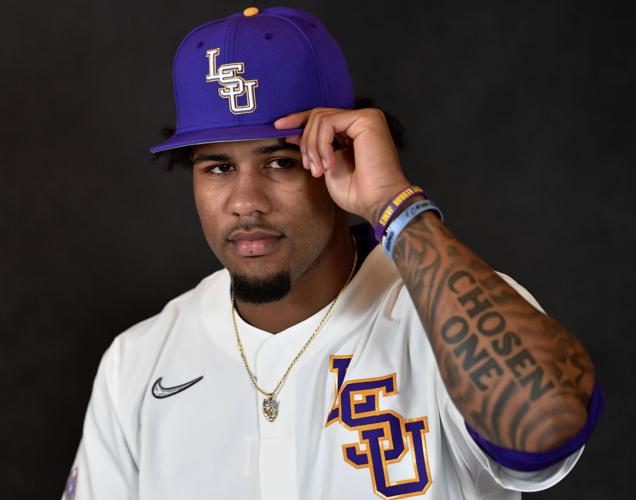 Hill: Just talking with the coaching staff. Coach (Paul) Mainieri is a legendary coach. And pitching coach Alan Dunn. Knowing that I want to follow in the footsteps of Kevin Gausman, Anthony Ranaudo, guys that made it to the big level. Knowing that I wanted to go that route and play professional ball at the time played a big part.
Lyons: Have you had a chance to connect with any of those former Tigers?
Hill: I did. When I was in college, I met with a lot of those guys that played. A lot of guys go back so I got a chance to sit down and have conversations with them.
Lyons: How is your offseason going for you so far? 
Hill: It's wonderful. I'm getting a lot of work in. Being here (at Salt River Fields) is wonderful. I'm getting to see the players, ask them more questions. A lot of guys who've had injuries. Also, it's my first Spring Training, so I'm asking them what it's like, what to look forward to and different things to make sure I stay on point.
Lyons: With the arm injury and Tommy John surgery, how disappointing was that going into a time where you know you're about to get drafted?
Hill: It was at first, immediately when it happened. Of course, that's where my mind went. But you know, I reached out to a lot of people and I have a lot of support in my corner. So talking to those guys and getting a plan together and attacking it has been great. There's been a lot of positives that have come out of it. I'm thankful that I have the opportunity to keep playing the game of baseball.
Lyons: What's it been like so far being around these guys here in this setting during Spring Training?
Hill: Wonderful. Last time I came out here during instructs, it was kind of tough for me because I was in a training room most of the time. And now I'm out here talking with guys and building team chemistry with guys. Just being able to practice is a wonderful feeling. 
Lyons: How far along are you so far in your recovery? 
Hill: Next month will be 12 months post-surgery.
Lyons: Obviously, your body's really going to be the true test to it. But is there a timetable when you're hoping to really get back out on the field and start to contribute in games?
Hill: That was the answer. My body will tell me. We have an idea but, for the most part, anything could happen between now and then. So, I'm just communicating with the trainers, letting them know how I'm feeling. When I'm ready, I'll be out there.
Lyons: Will you mainly be working out here or will you go out on the road and work with a trainer as part of one of the teams?
Hill: That will be something to decide when it comes. Right now, my next goal is to get on the mound. Once I get there, we'll move to the next step. When that comes, we'll deal with it.
(Photo Credit: Matt Dirkson/Colorado Rockies)